The Punisher online store offers airsoft professionals and amateurs of tactical games to buy a helmet for airsoft in Ukraine from well-known manufacturers of airsoft equipment. The catalog contains high quality helmets for airsoft made in China.
Airsoft helmets: types, characteristics, purpose
The development of the industry of sports and tactical games (airsoft, paintball) in recent years has formed a whole industry of equipment for this sport in the world, which, due to its "militarized" specifics, immediately took the benchmark to the standards of military tactical equipment. Any element of an airsoft shooter's outfit is a ready-made and very accurate replica of real army weapons, equipment, and accessories.
Therefore, every second helmet for airsoft is a copy of the tactical helmet of the army special forces with the same technological advantages, innovations and important elements. The only difference: in airsoft, the weapon does not have that powerful destructive power, and light and less durable materials are used for equipment.
Helmets for airsoft that Ukraine can offer athletes today are: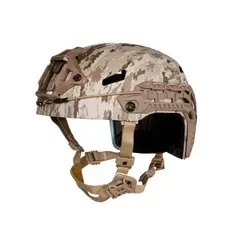 durable shockproof ABS-plastic (in some models, you can replace the top with original carbon);
suspension system for attaching the helmet to the head (adjusts the wearing comfort);
the presence of a body kit for installing NVG, sights, flashlights.
Such an airsoft helmet is visually indistinguishable from the tactical original; it provides reliable mechanical protection of the head from injuries, airsoft ammunition and grenade fragments. Such a helmet, by the way, can sometimes replace a bicycle, motorcycle, hockey, mountaineering helmet - its strength is sufficient for this.
Buy helmet for airsoft in Ukraine
The store's catalog contains professional airsoft helmets from FMA of different sizes, designs and complete sets of additional body kits for equipment.
Airsoft Helmets:
are replicas of the combat helmets of the US and NATO special forces;
have / do not have ballistic protection;
equipped with side rails for mounting NVG, flashlights and sights;
may have side cutouts for easy wearing of headphones and headsets;
lightweight, balanced, do not put stress on the neck muscles and the shooter's face.
Models of airsoft helmets are made of lightweight yet durable shockproof plastic with a ventilated top, equipped with Velcro panels for IR beacons, and have a convenient system of adjustable straps and attachments for comfortable wearing on the head. They provide reliable protection of the head from hitting airsoft bullets and shrapnel, protect against mechanical injury.
You can order and buy an airsoft helmet directly in the store's catalog using the convenient search system on the site. Products - only original quality, new, certified, protected by the manufacturer's warranty. Delivery in Kiev and other cities of Ukraine - in the shortest possible time.