"Officially, the program designated as SOPMOD BLOCK III was not found by us in open sources, so we invented it ourselves ..." © Joke-humor from a well-known person in narrow circles.
At a certain period of time, articles about SOCOM's plans to replace equipment and equipment within the framework of the SOPMOD program (Special Operations Peculiar MODification - a program for creating a unified set of additional equipment for small arms used by the special forces of NATO countries) begin to multiply and repost. Frankly, we did not want to write anything, but their active distribution and reposts made us sit down to write this article, in which we would like to tell you that any talk about a certain SOPMOD BLOCK III program is an extremely incompetent attempt to hyip on the development of small arms for special operations forces.
Links to the articles themselves:
https://vk.com/@sorm_tv-sopmod-block-iii-nastupaet
https://vk.com/@sorm_tv-ussocom-perehodit-na-peo-sw-vaswa
In general, we believe that making some kind of long-term forecasts or doing fortune-telling on this topic is outright nonsense, if only for the reason that a lot of programs and studies are being carried out in the United States, which subsequently "do not take off" from the word "at all", Yes, and over the entire topic of weapons in the States, the story with SCAR-L always hangs now: after all, it was this system that was declared the winner of the competition in 2004 and it was supposed to replace the AR platform in SOCOM, however ... it did not take off and SOCOM refused it was already in 2013, while any massive use of SCAR-L was not noticed even in the period from 2004 to 2013.
At the very beginning, we want to remind you that the SOPMOD program started back in 1989 and its goal was to create a unified set of equipment for a shooting complex for SOCOM fighters and there should be a clear understanding that SOPMOD is precisely a development program, and not some trivial catalog of existing equipment. SOPMOD was supposed to determine what kind of functionality should provide small arms of special forces. Since then, a lot of water has flown under the bridge, many manufacturing companies have appeared on the market and almost every day there are new items in the field of weapon modules, i.e. now the creation of a program just as a set of accessories will be exclusively a brake on the further development of this area and that is why the initiation of BLOCK III (or any other similar program) is currently irrelevant (and, most likely, even harmful) task.
Secondly, I would like to talk about the presented "documents" and "proofs" that were used in the article. It was immensely fun to watch the links to the ar15.com forum, articles from soldiersystems.net and thefirearmblog.com. Very, you know, funny "proofs".
Screen № 1 (New word in proof)
Separately, I would like to note the link to the Hornet Airsoft airsoft YouTube channel, while the link to which was announced as, we quote: "Proofs for little Billys" :) In principle, the article could have already ended ... :)

Screen № 2 (No comments)
And especially amusing against all this background is the maxim that "Nyashki are looking for pictures, and" olds "are googling docks" :)
In the second article, a certain document is used, which is a "roadmap" ("road map") - i.e. a description of which direction SOCOM is supposedly (but not certain :)) will move on. Just in case, we are applying similar development prospects (such as those described in these articles), but from the distant 2012 in a PDF file. And where is all this now? .. So, all the "roadmaps" presented in these articles are written things with pitchforks on the water ...
And finally, we would like to discuss the inaccuracies in the article itself and draw certain conclusions about the "quality" of the material presented: the articles themselves and the group's answers abounded with a bunch of errors, which immediately caused some doubts about the competence of the author (s) on the issues covered in the articles (then, for the most part, mistakes in the bulk seem to have been corrected).

Screen № 3 (Shock! Proof that SOCOM uses replicas!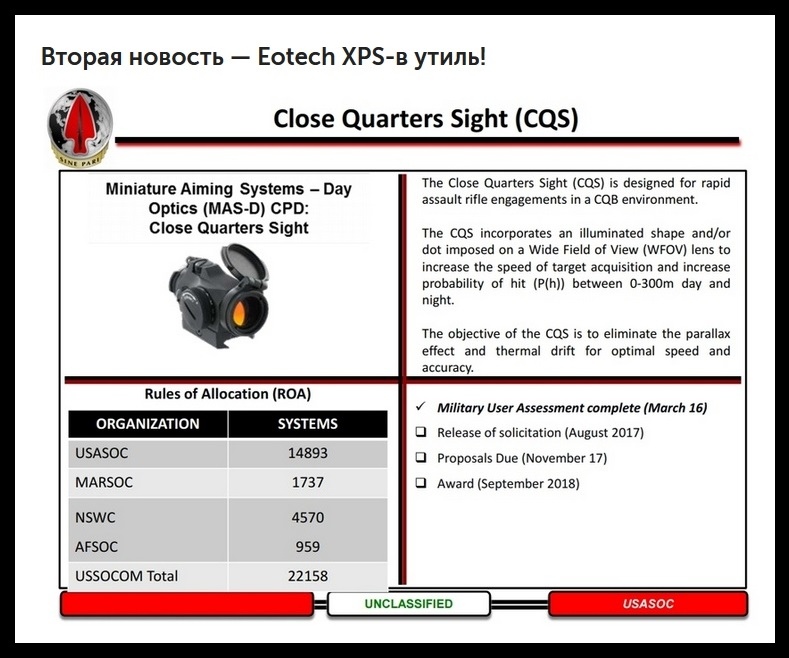 Screen №4 (XPS? EXPS? What's the difference?)
1. Initially, the article indicated that it was planned to replace the "L3 / Insight MX200" flashlight with a Surefire M600 ". What's wrong? The fact is that no MX200 flashlight exists in nature, but there is an MX200 - a replica of the WMX200 flashlight manufactured by Beta Project.
2. The Surefire M600 with IR diode is called the Surefire M600V and the Surefire M600 and the Surefire M600V are completely different flashlights for their ultimate purpose.
3. In the second article, we see the loud headline "Eotech XPS - for scrap!". Similar to the story with flashlights, one must understand that the Eotech XPS and the SU-231A / PEQ (Eotech EXPS) scope used by SOCOM are completely different sights.
However, we will consider these inaccuracies simply errors in writing models and write them off to the speed of writing the text for these "hype" articles. Nevertheless, we had some questions about the article regarding the "replacement" of "WMX200" with "Scout" series flashlights. Yes, "Insight MX200" has not been produced for more than 2 years and, of course, it will be replaced one day (most likely, when the existing "stocks" run out). No one denies that the replacement can be made for flashlights from Surefire or WML from INFORCE (which are increasingly seen in the same photos of SOCOM fighters). However, it should be borne in mind that during the existence of the "Scout" series (and, by the way, it is more than a year old than the "Insight WMX200"), there is not much information about its use by SOCOM fighters (with the exception, perhaps, of NSWDG), even considering the fact that the average cost of Surefire flashlights is much less than the cost of Insight. Therefore, a question arises to the author (s) of the article: where do the firewood come from? Where do they get the information that it is planned to replace it with this particular series of lamps? Are there any facts about the planned replacement? Personally, we have never seen any information about plans for such a replacement anywhere (articles on soldiersystems.net are, of course, very interesting, but in these questions I want to see something more serious).
In conclusion: frankly speaking, we have absolutely no desire to be engaged in verbatim proofreading of these articles, but we can already say that the result is a "fail" (there is no other way to call it). Therefore, we ask the "olds" who were writing these articles to approach the topic a little more seriously and not to produce heresy.

Source: https://vk.com/@comtac-istoriya-feika-sopmod-block-iii
Author: ComTac Systems