The story of one soldier who was in the SOF JTAC in the period 2012-2013. He talks about his equipment in a specialized forum.

I'm currently deployed as a SOF JTAC and I thought I'd share what I'm rocking out here.
Plate carrier
LBT 6094A with plates and backers from SPEAR.
I added the HSGI shoulder pads for added comfort over top of the LBT ones.
In the front pouch is a Mayflower 3 mag kangaroo pouch and Spartan Blades CQB tool.Directly behind that I keep a protractor, some danger close cheat sheet cards and a notepad.
Running 2 152's in the cummerbund radio pouch with FM whip antenna's routed to the back. I can get decent comms on UHF and VHF with aircraft if I have to, but in my AO FM freqs work the best. On the right side of the carrier I've got a admin pouch holding extra boom mics, AA/AAA/123 batteries, IR skeet, Slip 2000EWL and a helmet counterweight. Left side is my VSLIM (IR pointer for marking tgts at night) and 2 smokes in high ground gear pouches. CAT tourniquets rubber banded to the molle in front of my radios. On the back is the mayflower back panel. Holds my PVS15's, KYK-13, SMP2000 beacon and IR skeet in the top and blow out kit on the bottom tearoff panel. Inside the hydration carrier portion I keep my full motion video reciever, which displayes to an eye piece routed through my shoulder strap. On the bottom rear of the carrier I also have a 152 multi-band antenna rubber banded. In the event my routed antennas fail I have a backup that I can attach directly to the radio. Also have an American flag folded and tucked in the front plate pocket, 'cuz...you know...'MERICA.
I toyed around with the Crye JPC and BFG LMAC but I keep coming back to this PC. For what I use it for its just about perfect.
Belt
The belt is a TAG cobra buckle riggers belt. Holds my Glock19 w/x300 in a safariland holster, 2 glock magazines, Pocket Laser Range Finder, folding dump pouch and a DPx fixed blade knife. I tried using molle belts of all sorts and none have been comfortable to me. The VTAC BROKOS was the closest to being comfy, but it was just too bulky. This set up is working really well for me so far.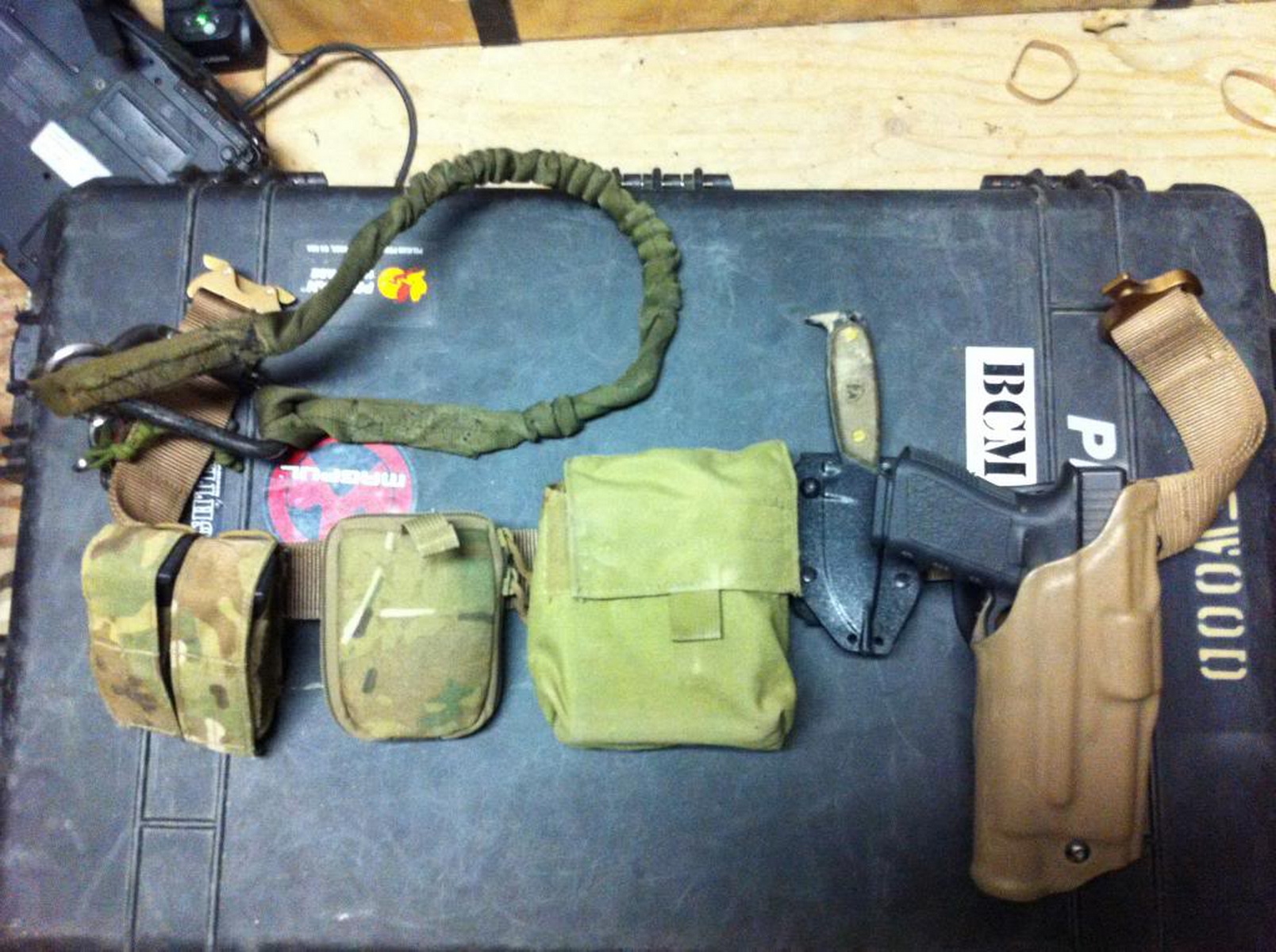 Radio pack
Eagle yote stuffed with a 117G, SAT antenna, extra mags and smoke, and alot of water. This usually gets left in the truck when we dismount. If we're planning on making a long movement however I'll throw it on. I try to keep from doing it because it ends up just being an extra radio that I never use. For extended day ops I use an eberlestock X2. That pack is awesome and holds everything I need plus the shit I think I'll need but end up never touching.
Helmet
Ops-core lid, pretty bare. strobe on the back, glint patch on the top. The MPL switch light is a white/red and old as hell. I'll probably swap it out for a white/IR that I have lying around. I use the smith boogie goggles if I need goggle eye pro (usually only for MFF) but the clips for the bungee straps are on there and never get taken off. If you have the rail systems and wear goggles under your NVGs, GET THESE GOGGLES NOW. They are the only goggles that I have ever used under nods that were comfortable and didn't fog in .35 seconds.
Weapons
MK17 w/ 13in barrel. Run it pretty slick with only a LA-5 wired to a pressure switch on the vert grip. Optic is a 1-6x elcan. It gets run suppressed 99% of the time. To be completely honest I really dislike the SCAR platform. I wish SOCOM would have gone with a 7.62 AR platform like the LMT MRP rather than this. Regardless, its still a 7.62 and its superior to 5.56 at the normal engagement distances in Afghanistan.
MK18 is run suppressed majority of the time. I know that a suppressed shorty isn't the greatest but with how little I actually shoot at people in a TIC it's not the biggest issue. I've also never really had any issues with it even at high round counts suppressed. Drown it in EWL and it keeps chugging along. Issued eotech(hate it), LA-5, and the insight white/IR weapon light. Stippled pmags are all I run in this sucker.
MK20 w/ Nightforce 3.5-15 with Horus H57. I wish it had a little more power optic wise, but it gets the job done. This gets run suppressed 100% of the time. Its a surefire suppressor and the thing is solid. Often times I get put out on a dismount team to set up an OP and provide overwatch. This thing gets taken along for that and I hope one day I can log a kill with it. It would up my street cred for sure around the teams haha.
Glock 19 w/x300 is my sidearm. I carry it 24/7.
Blades
So, on the belt is the DPx fixed blade. I also carry my Emerson CQC-13 in my pocket. I've been carrying the thing everyday since 2010 and don't plan on ditching it anytime soon.
I spent a lot of time building up a VSP and also cutting canopies from air drops out of the wire, so a good fixed blade was needed for cutting rough shit. I bought the Bad Blood Knives spartan based off of a good review here on LF. This thing is a tank. A good thick blade that can hold a good edge is needed out here and this fits the bill.
Clothing/Boots
As a AF special tactics guy we all pretty much have a million pairs of the crye combat and field uniforms. Cutting off the sleeves is a must for me now days. I don't like how tight the sleeves get rolled up and I hate having full length sleeves under my garmin and arm board. Chopping them off made me a much happier dude.
Recently I bought a the Arc'teryx Talos pants and Talos LT top. They are solid and they feel more rugged than the crye. The collarless top is pretty nice as well. I wish they had the pit zip like the standard Talos top but overall its a great shirt and I'll definitely be buying some more of the Talos uniforms.
When I first got in country it was cold as hell. My first VSP was at approx. 8k feet and it snowed daily. I wore ASOLO fugitives and they worked wonders for the terrain and wetness. Now that it's starting to warm up I'm breaking in a pair of Lowa zyphers. I was wearing the Salomon GTX's but the rocks out here kill my feet in such a flexible boot. The Lowas are light and flexible but not so flexible that your feet take a beating on rocks and gravel. If the Asolo boots didn't get my feet so hot though I would definitely be wearing those daily.
For gloves I have been using the SKD PIG gloves since the first generation ones came out. I think the newer ones now have a little bit thicker material on the fingers but they're sill better than anything else I've tried to include mechanix. They're also a great liner for fast rope gloves .
Now the most important thing of all. TOBACCO. this is a 3 week supply. Its a huge pain in the ass trying to get some cope wintergreen as the wife doesn't approve of my habit. Grizzly and kodiak are way to expensive out here too. I'm taking dip donations time now.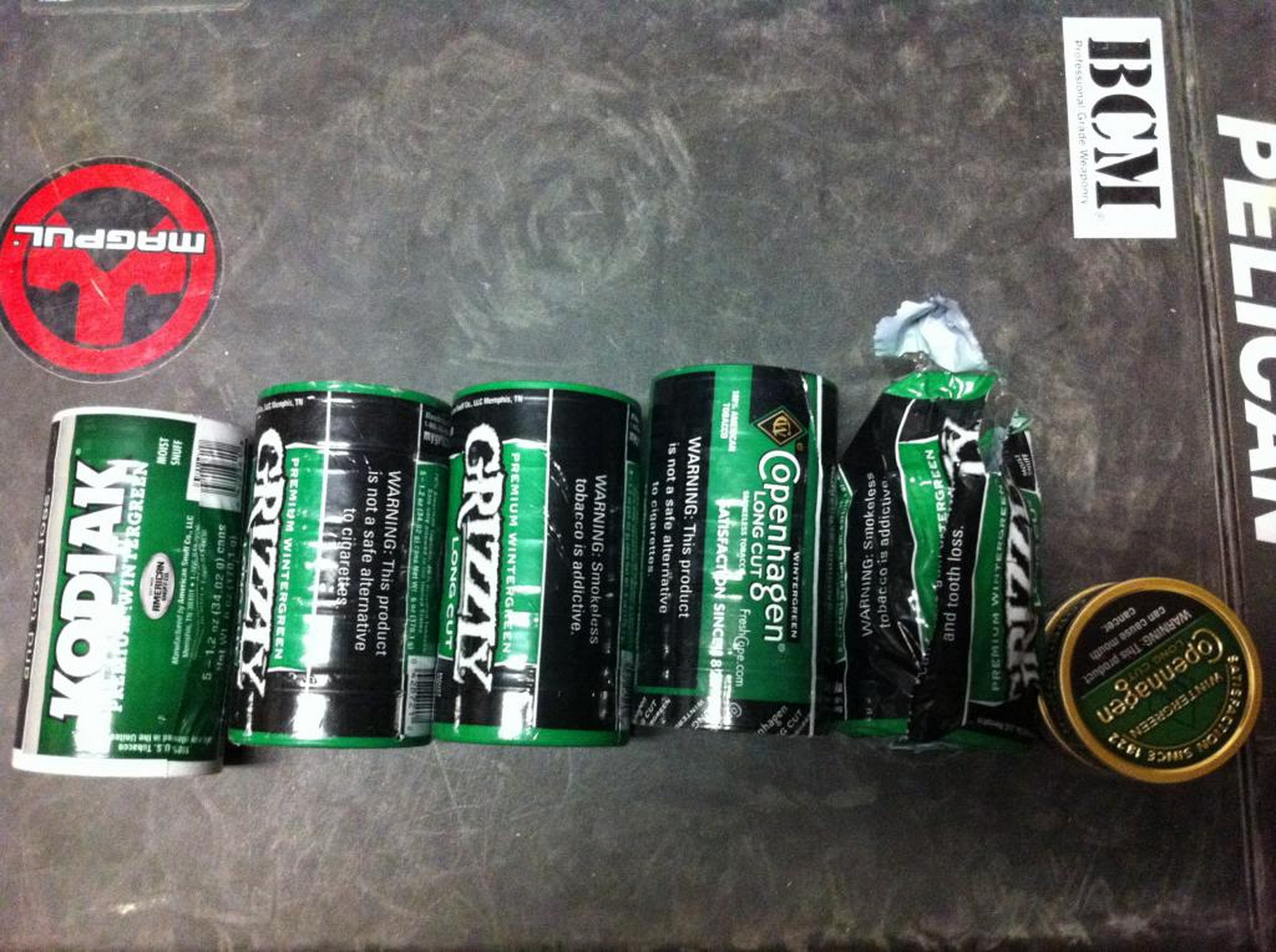 I've got a few more months in country and I'm acquiring a Mayflower 417 chest rig and a UW gen IV chest rig. The plan is to throw those on over top of my BFG LMAC so that swapping between m4 and SCAR isn't as big of a hassle. I'm hoping I like that setup, but I'm sure everybody knows here that your kit can never be perfect. It's a constant battle that I'm still fighting everyday along with the shithead 'ghans.
Source: https://mr-aug.livejournal.com/1222865.html
Author: Mr-Aug